Red lights over the Pacific - August 2014
---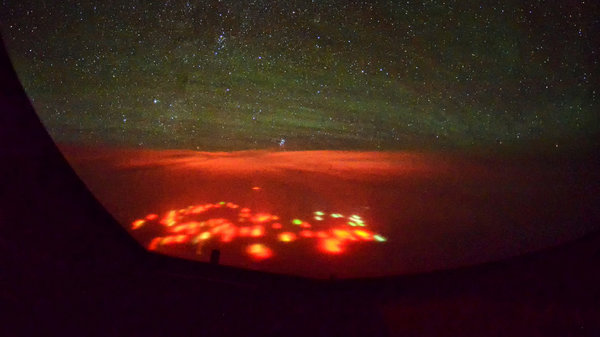 In the night of 24-25 August 2014, I flew a 747-8 from Hong Kong to Anchorage. While flying over the vast Pacific Ocean, somewhere southeast of the Russian Kamchatka Peninsula, I had one of the strangest experiences of my life. Around five hours into our flight with Japan a long time behind us, we were cruising at a comfortable 34.000 ft with about four and half hours to go towards Alaska. Over the radio, we heard Air Traffic Control talking to other planes that were heading for the US West Coast about diversions, due to major earthquakes in San Francisco.
Update August 2022: most probably Chinese saury fishing fleets.

Inquiries with our company Operations Centre confirmed two nearly simultaneous massive earthquakes in San Francisco and Chile, and a large volcanic eruption in Iceland. Our flight was not expected to be affected by any of these events. But with our basic geographical knowledge, we knew that a lot of tectonic activity in the Earth's crust could have a cascade effect around the world. With three active and soon-to-erupt volcanoes along our route in Kamchatka and Alaska, we figured that we could encounter one of the deeply feared ash-clouds if any of these would erupt.

Suddenly, a long way off in the distance ahead, an intense light flash shot up from the ground, just at or beyond the horizon. It looked like a lightning bolt in a faraway thunderstorm, but a lot more intense and of a much shorter duration, as though something had exploded. I have seen countless thunderstorms, shootings stars, lightning bolts and stars but never a flash like this. And strangely enough, it was just one single flash, and we did not see any other flashes afterwards, which would be expected with a thunderstorm. As later confirmed by two independent lighting-observatories, there was no electro-magnetic activity (lightning strikes) for two hours before and after the time of the sighting, in a radius of at least 1000 kilometres. Of course, we did not know that at the time and did not give it much thought, until much later that night.
While my meal was warming in the oven, we dimmed the lights in the cockpit and I decided to try and take some pictures of the night sky and the so called 'earth glow' green faint glow that was visible all over the Northern Hemisphere.